BJ CK7156 CNC eszterga
Megjegyzés
Ez a lap jelenleg nem elérhető magyar nyelven. Itt az angol nyelvű változat szerepel.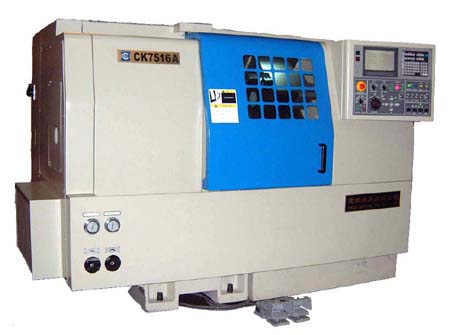 The CK7516 is a CNC lathe with a 45-degree slant bed and integral base design. The lathe is capable of turning internal and external cylinders cones, arc and curved surfaces, ends, and inch or metric threading as well.
This model is offered with a flexible configuration. There are three versions (CK7156, CK7156A and CK1756C), suitable for various types of middle and small batch production. The lathe can be ordered with a FANUC 0-TD or a DASEN R2J50L control system.
Technical Specification
Product
Brand
BJ
Model
CK 7156
Product type
Slant Bed CNC lathe
Operation
Max. swing dia. over bed
400 mm
Max. swing dia. over the carrige
260 mm
Max. turning diameter
285 mm
Max. turning length
400 mm
Spindle bore diameter
57 mm
Type of spindle nose
ASA A2-5
Spindle speed
55 - 5 500 rpm
Chuck type
hydraulic
Chuck diameter
165 mm
Spindle drive motor power
11/15 kW
Tailstock quill diameter
70 mm
Tailstock quill taper
Standard/live spindle structure
Tailstock quill taper
MT No.4/2
Tailstock quill travel
80 mm
Feeding travel, X
165 mm
Feeding travel, Z
410 mm
Rapid traverse rate, X
1200 mm/min
Rapid traverse rate, Z
1600 mm/min
Power supply
35 kW
Automatic Tool Changer (ATC)
Number of tools
8 pcs.
Tool O.D. size (turing/boring)
20 mm x 20 mm, diameter: 32mm
Dimensions
Machine size
2 540 mm x 1 670 mm x 1 660 mm
Machine weight
4 030 kg
Versions
The CK7156 lathe is offered in three versions: CK7156, CK7156A and CK7156C.
CK7156
| | |
| --- | --- |
| Swing diameter over carriage | 260 mm |
| Spindle speed | 55 - 5 500 rpm |
| Spindle power | 11 / 15 kW |
| Rapid travel rate (X/Z) | 12 / 16 m/min |
CK7156A
| | |
| --- | --- |
| Swing diameter over carriage | 260 mm |
| Spindle speed | 80 - 3 500 rpm |
| Spindle power | 7.5 / 11 kW |
| Rapid travel rate (X/Z) | 12 / 16 m/min |
CK7156C
| | |
| --- | --- |
| Swing diameter over carriage | 180 mm |
| Spindle speed | 55 - 5500 rpm |
| Spindle power | 11 / 15 kW |
| Rapid travel rate (X/Z) | 12 / 16 m/min |
Options
Control system:
Automatic Tool Changer (ATC) type:
8 tools turret
12 tools turret
CAD/CAM Software
SurfCAM 2 Axis SE program, Version 2007
Support for the latest model of the lathe
SurfCAM Software Maintenance License, 1 year
SurfCAM postprocessor, 2 Axis
SurfCAM software training, 2 days