BJ HK63 CNC eszterga
Megjegyzés
Ez a lap jelenleg nem elérhető magyar nyelven. Itt az angol nyelvű változat szerepel.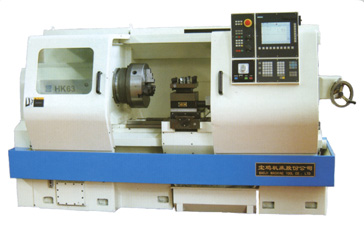 The lathe HK63 and its variant, the CJK6163 both feature a strong cast iron bed and quenched and burnished guideways.
With FANUC 0i Mate, MITSUBISHI E60, SINUMERIK 802D, or DASENG CNC systems, these lathes are suitable for machining internal and external cylinders, cones, arc and curved surfaces, ends, and inch or metric threading as well. Featuring a 4-station turret and protection cover, CJK6163/HK63 CNC lathes are available for different needs. These machines are convenient to open and close, ensuring clean and safe production. The integrated control panel makes usage and programming very convenient for operators.
These lathes are ideal for various types of middle and small batch production, and their excellent features make them suitable for complex and highly accurate machining tasks.
Technical Specification
Product
Brand
BJ
Model
HK63
Product type
CNC lathe
Operation
Max. swing diameter over bed
630 mm
Max. swing diameter over cross slide
360 mm
Max. turning diameter
500 mm / 325 mm (6-station turret)
Distance between center
1 000 mm
Max. turing length
760 mm
Bed guideways weight
425 mm
Spindle bore diameter
84 mm
Type of spindle nose
A1-11/A2-8
Spindle type
3 gears, stepless
Spindle speed
20 - 1 600 rpm
Spindle speed, High
155 - 1 600 rpm
Spindle speed, Medium
50 - 525 rpm
Spindle speed, Low
20 - 210 rpm
Spindle drive motor power
11 kW (inverter motor)
Tailstock quill diameter
80 mm
Tailstock quill travel
200 mm
Tailstock quill taper
Morse Taper No.5
Rapid traverse rate, X
6 000 mm/min
Rapid traverse rate, Z
6 000 mm/min
Number of tool
4
Tool O.D.size
32 x 32 mm
Motor power, X
0.6 kW
Motor power, Z
1.0 kW
Lead screw diameter, X
32 mm
Lead screw diameter, Z
50 mm
Main motor
30 kW
Dimensions
Machine size
2 800 mm x 1 530 mm x 1 670 mm
Weight
3 480 kg
Features
Automatic Tool Changer (ATC)
Versions
This lathe comes in two versions, the CJK6163 and the HK63. The CJK6163 has a spindle with 14 steps (18 to 1600 rpm). The HK63 is equipped with a 3-step gearless spindle.
Options
The machines can be ordered in a 1 000 mm, 1 500 mm or 2 000 mm size (ie. maximal work piece length).
The lathes are available with mechanical timing or inverter timing.
Control system:
Fanuc 0i Mate control system (recommended)
Daseng control system
CAD/CAM Software
SurfCAM 2 Axis SE program, Version 2007
Support for the latest model of the lathe
SurfCAM Software Maintenance License, 1 year
SurfCAM postprocessor, 2 Axis
SurfCAM software training, 2 days