Dardi DWJ2040 vízsugárral vágó gép
Megjegyzés
Ez a lap jelenleg nem elérhető magyar nyelven. Itt az angol nyelvű változat szerepel.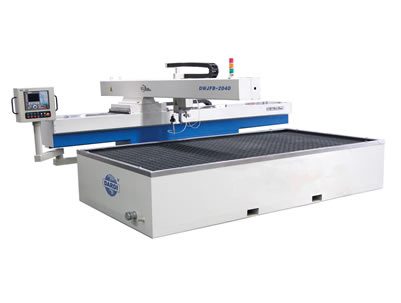 Technical Specification
Product
Brand
Dardi
Model
DWJ 2040
Product type
Water Jet (Abrasive Jet) CNC Cutter Machine
Structure
Structure
Flying Arm (Cantilever)
Table Size
X-axis
2100 mm
Y-axis
4100 mm
Travel
X-axis
2000 mm
Y-axis
4000 mm
Z-axis
130 mm
Operation
CNC Controller System
Fagor (Spain) 8035/8040
Motor and servo
Yaskawa (Japan) AC motor and drive
Repeatability accuracy
+/- 0.025mm
Cutting accuracy
+/- 0.1mm
Power Supply
380 VAC, 50 Hz, 3 Phases
Features:
Motorized Z Axis
Integration cast supporter, easy to replace
Configuration
Dardi Water Jet DWJFB-2040 CNC
Working area X,Y,Z = 2000 x 4000 x 130 mm
Motor and servo: YASKAWA

DPSC7-3740 High Pressure Pump
Max. output pressure: 400 MPa (60 000 psi)
DWCH ON/OFF Valve
DCAS-B Abrasive Controlling Valve System
DPSC7-3740 High Pressure Pump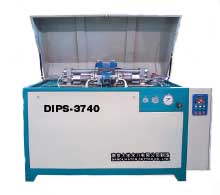 Product
Brand
Dardi
Model
DPSC7-3740
Product type
High Pressure Water Pump
Operation
Max. output pressure
400 MPa (60 000 psi)
Intensifier ratio
20:1
Max. flow rate
3.7 l/min
Inlet water pressure
0.4 MPa
Main motor power
37 kW (50 HP)
Power supply
380 VAC, 50 Hz, 3 Phases
Dimensions
Size (L x W x H)
1700 mm x 1500 mm x 1400 mm
Weight
1300 kg
Features:
Self-diagnostic function provides a safe operating environment and convenient maintenance
Inlet water serial filters (5 micron, 1 micron, 0.45 micron in series)
Arbitrarily, manually adjustable working pressure (can be set to any value by hand)
Automatically quits on the condition of super pressure or lack of required pressure
DSP7 Abrasive cutting head
Max orifice size: 0.25 mm
Max nozzle: 1.0 mm
Automatically adjusts the orifice and nozzle in one centre line to guarantee cutting efficiency
DWCH ON/OFF Valve

Air-driving valve with a function of the instant on/off the hi-pressure water
Automatic control over the on/off high-pressure water can be achieved by CNC M function
The pressure when the valve is off can be arbitrarily adjusted - to achieve the perforating with a lower pressure
DCAS-B Abrasive controlling valve system

Self-absorbed abrasive delivery
Fill abrasive to hopper by hand
Software
PEPS CAD/CAM suite
DXF files can be automatically loaded by the CNC program
Communication between PC and CNC goes through serial interface
An open database to save the cutting parameters of different materials. There is no need to enter the parameters again and again - you can use them in your CNC programs with a mouse click.
DAADS-C abrasive feeder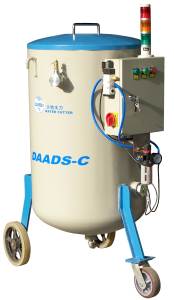 Automatic delivery of the abrasive into the hopper
Highly sensitive sensor; automatic notice to operator about when to fill the abrasive
250 kg storage capacity
Accessories
Spare parts: Orifice (3 pieces), Spare kits (ON/OFF Valve), Safety valve, Lubricant
Special tools
Technical documentation
Support
Installation
Training at customer's facilities