BJ CK7525 CNC eszterga
Megjegyzés
Ez a lap jelenleg nem elérhető magyar nyelven. Itt az angol nyelvű változat szerepel.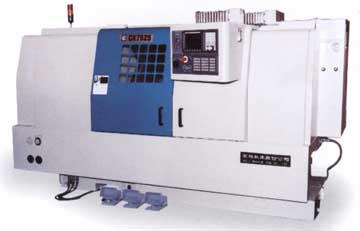 The CK series of CNC lathes feature a strong cast base and an exclusive slant bed structure which provide excellent rigidity, dampening and convenient chip removal. The high precision through-hole spindle, driven by a powerful A.C. main motor, features stability and low noise during operation. Key parts like the NC system, turret, chuck and bearings on the ball screw and main spindle are products of highly respected international vendors.
Technical Specification
Product
Brand
BJ
Model
CK 7525
Product type
Slant Bed CNC lathe
Operation
Max. swing diameter over bed
550 mm
Max. swing diameter over carriage
370 mm
Max. turning diameter
450 mm
Max. turning length
1000 mm
Spindle bar diameter
73 mm
Hydraulic chuck diameter
254 mm
Type of spindle nose
GB5900.1 A2-8
Spindle through hole diameter
87 mm
Spindle bearing diameter (front/rear)
120 mm / 110 mm
Spindle speed
40-4000 rpm
Spindle drive motor power
15 / 18.5 kW
Tailstock diameter/travel
100 mm / 100 mm
Tailstock centre taper
Standard/live spindle
Tailstock centre taper
MT No.5/4
Carrige slant angle
45 degree
Movement distance, X
210 mm
Movement distance, Z
1010 mm
Rapid traverse, X
1200 mm/min
Rapid traverse, Z
1600 mm/min
Servo motor torque, X
12 Nm
Servo motor torque, Z
22 Nm
Ball screw diameter, X
32 mm
Ball screw diameter, Z
40 mm
Turret stations
8 pcs.
Tool size (turning / boring)
25 mm x 25 mm / diameter: 40mm
Power supply
50 kW
Dimensions
Machine size
5 160 mm x 2 254 mm x 2 285 mm
Machine weight
6 300 kg
Features
Fanuc control system
Automatic Tool Changer (ATC)
Versions
The CK7525 lathe is offered in four versions: CK7525, CK7525.500, CK7525C, CK7525C.750. The differences are in the maximal turning length (500 mm, 750 mm or 1 000 mm) and the maximal swing diameter (280 mm or 370 mm, measured over the carriage).
Options
Automatic Tool Changer (ATC) type:
8 tools turret
12 tools turret
Spindle drive motor
Spindle drive motor, Power: 15 / 18.5 kW
Spindle drive motor, Power: 18.5 / 22 kW
CAD/CAM Software
SurfCAM 2 Axis SE program, Version 2007
Support for the latest model of the lathe
SurfCAM Software Maintenance License, 1 year
SurfCAM postprocessor, 2 Axis
SurfCAM software training, 2 days