Daron DRX-3000sup konzolos CNC megmunkálógép
Megjegyzés
Ez a lap jelenleg nem elérhető magyar nyelven. Itt az angol nyelvű változat szerepel.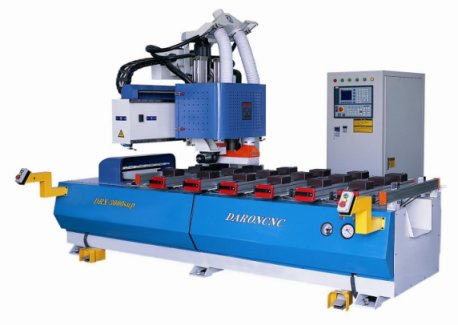 The Daron SUP3000 Cantilever CNC machine is designed for woodworking.
Technical Specification
Product
Brand
Daron
Model
DRX-3000sup
Product type
Cantilever CNC machine
Operation
Working area (X, Y, Z)
1220 x 2440 x 200 mm
Positioning accuracy
+/- 0.01 mm
Repositioning accuracy
+/- 0.05 mm
Structure
Welded Steel
X, Z Structure
ScrewBall, Linear Bearings
Y Stucture
Gear Wheel Transmission, Linear Bearings
Max. Speed
40 m/min
Spindle
HSD 8 KW ATC Spindle (8 Tools with Turret type)
Spindle Speed
6 000 - 24 000 rpm
Driving System
Yaskawa servo drive (Japan)
Collet
Collets dia. 12.7 mm, 16 mm, 20 mm
Working Voltage
380V, 3 Phase
Command
G-code
Operating System
Windows, SYNTEC System (Taiwan)
Vacuum Pump
100 m3/h
Dimensions
Dimensions
3600 x 2000 x 2350 mm
Gross weight
3600 kg
Features
10 vertical spindles: to drill holes
Saw blade: to saw the groove for the cabin back wall
Vacuum pods: the work piece is kept in place with the vacuum pods (as seen in the picture) and not a vacuum table
MC (Italy) boring unit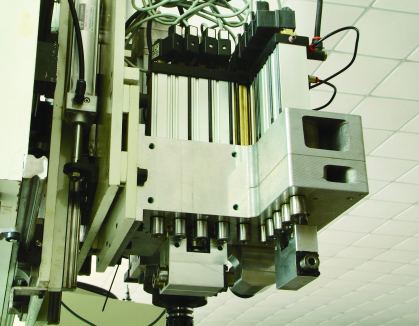 MC Boring head (Manufactured in Italy):
10 vertical spindles to drill holes
3 horizontal spindles to drill holes
1 blade unit (saw blade)
The boring unit by MC comes with 10 vertical drills, 3 horizontal drills and one saw. The distance between the drills is 32 mm (by default). The power of this unit is 2.7kW, and its speed is 2800 rpm to 5000 rpm.
Optional:
Slide unit (stroke 90-120-165 mm)
Automatic Tool Changer (ATC)
The machine can be ordered either with linear ATC or with rotary ATC.
Rotary ATC: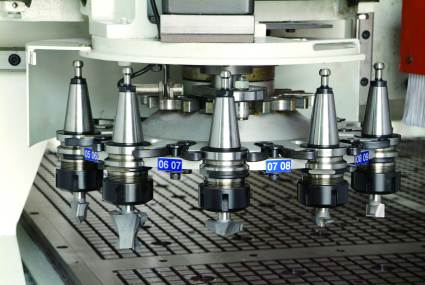 Software
SurfCAM 3 Axis SE
SurfCAM 3 Axis SE Maintenance, 1 year
Postprocessor for SurfCAM 3 Axis
Support
Installation
Training at customer's facilities