NEL CM1530 lézer CNC megmunkálóközpont
Megjegyzés
Ez a lap jelenleg nem elérhető magyar nyelven. Itt az angol nyelvű változat szerepel.
The CM1530 is offered in two versions: the single worktable version and the double worktable version.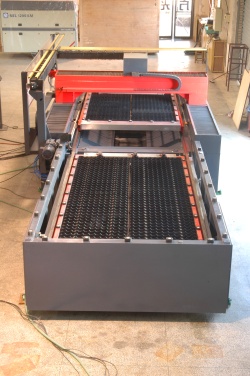 Single worktable
Product
Brand
NEL
Model
CM 1530 single worktable
Product type
CNC laser machine
Operation
Table size
1 500 x 3 000 mm
Travel (X/Y/Z)
1 500 x 3 000 x 100 mm
Position accuracy
±0.03mm/m
Cutting thickness
12 mm (steel)
Repetive position accurancy
±0.005mm
Max. speed
48m/min
Laser power
2 000 W
Dimensions
Overall dimensions, Generator
2 375 x 800 x 1 540 m
Net weight
12 500 kg
Double worktable
Overall dimensions, Double worktables: 8 000 x 3 200 x 2 000 m
Features
NEL Series Laser Generator
The product features a NEL-2000SM laser generator. This technology is licensed from Rofin-Sinar GmbH, Germany.
Liquid Chiller for Laser
C-25 liquid chiller
Imported refrigeration compressor, stainless steel pump and stainless heat exchanger
Outside optical light guide system
The technology of outside optical reflector blocks is imported from America. This makes the machine easier to control and work more steadily. High power of laser optics are also imported from the US.
Gas Supply Unit for Laser
Pressure reducing valve and pipeline Highly purified CO2 / He / N2
Water Supply Unit for Laser
Pipe joints, hose clam and enhanced water pipe with resisted pressure for 10kg
Optional components
Automatic Programming Software
The PEPS SolidCut by CAMTEK Ltd., UK is an optional component for this machine.
PEPS Basic Module, Windows, version 4.2.5
Automatic Programming Software; Parametric programming
DXF/IGES translators
Graphical user interface
English language version
OS support: Windows
3D unfolding program
Optional: Laser module
Optional: Automatic nesting, including cluster nesting module